News...
11.30.09
Ladies and gentlemen,
It was 10-years ago Ed in the Refridgerators first graced our earth with their presence. Born of middle school boredom and cheap Yamaha keyboards, their influence has been felt far and wide, even prompting David St. Hubbins (of the legendary Spinal Tap) to tell one reporter, "What I like about them is their energy." A writer from the San Francisco Bay Guardian even once called our house! Why would people in San Francisco give a damn about a bunch of 12 year-olds making a racket in their parent's garage?
Despite this semi-regional notoriety, Ed in the Refridgerators' debut recording, Good is Dumb, has been relatively unavailable since the early part of the decade. The 100-or-so original CDr copies seem to have been hoarded away by collectors, difficult to track down, even in this digitally-enhanced music trading environment. So it is with great joy that we bring this legendary recording back into print for the first time since aught-two.
To celebrate 10-years of ED, we are re-releasing Good is Dumb in it's original CDr format, in an expanded 2-disc, deluxe edition with nearly 60 bonus tracks. Disc one contains the original 10 song album plus 4 demos from early 2000, alongside Ed's entire February 2000 score for a MassArt student theatre production. Disc two contains complete recordings of the first 2 live shows ever performed by Ed in the Refridgerators: the first, a radio session from WMFO in Medford, Massachusetts, and the second, a live show from Tufts University's Crafts House, also Medford, MA, both recorded in early October 1999. Also included in this deluxe reissue is an "Ed in the Refridgerators Gave Me Cooties" linocut-printed patch, a certificate of authenticity denoting this package's scarce availability, a 12 page booklet with extensive liner notes, and a cassette tape featuring 11 Ed in the Refridgerators practice demos from Summer 1999, recorded just before Good is Dumb. All this comes encapulated in screenprinted, octuple-folded cardboard packaging.
This special deluxe edition is available now in a limited edition of 100 copies. You can order it right now for $15 postage-paid right here!
Give the gift of ED to a loved one this Christmas.
10.15.09
First update in almost FOUR years!
Ed in the Refridgerators are celebrating the 10th anniversary of their debut release, Good is Dumb.
In observance of this tremendous achievement of longevity, we are reissuing Good is Dumb in an expanded, anniversary edition. Back in print for the first time since the year 2000, Good is Dumb will soon be available for purchase in a 2-disc boxed set that includes a cassette tape, an Ed in the Refridgerators Gave Me Cooties patch, and various other exciting accoutrements.
The first disc includes the original 10-song Good is Dumb album plus four home 4-track demos from March 2000 and their complete 11-song score to a Mass Art student theater production recorded in February 2000.
The second disc includes the first two live performances by Ed in the Refridgerators. The first being recorded and broadcast by WMFO in Medford, MA on October 5, 1999, and the second recorded at their first public show at Tufts University on October 8, 1999.
The cassette tape features ten pre-Good is Dumb recordings made during practice sessions in Andrew's garage over the summer of 1999.
All packaged in a sweet box with other sweet treats. More than anything ever released besides the Prince song, this is going to make you want to party like it's 1999.
More details forthcoming, but right now we wanted to let you know that you'll have at least one more chance to see Ed in the Refridgerators perform live!
Thursday, October 22, 2009
Hotung Cafe - Tufts University Mayer Campus Center
Corner of Professors Row and Latin Way, Medford, MA
9:00pm | FREE!
YES! That's right! To celebrate 10 years of ED, we return to Tufts University to perform Good is Dumb in its entirety!
This event is not-totally open to the public, but if you would like to go, you can email edintherefridgerators@yahoo.com and we will put you on the guestlist. The show is FREE! Be sure and email the names of EVERYONE you will be attending with.
More news later, but for now, email ED if you want to come to the reunion show!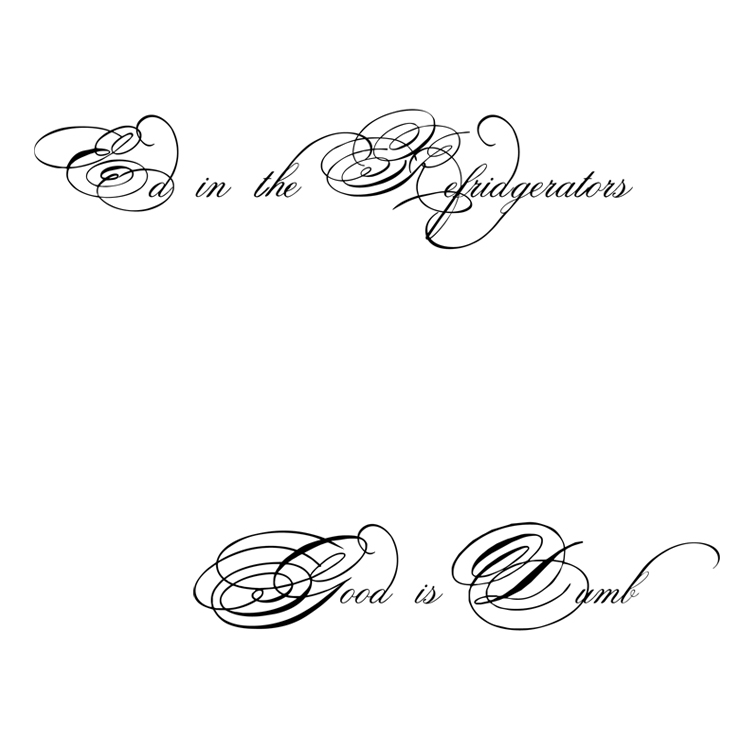 10.25.05
NOTICE!!!!CANCELLATION!!!
Due to complicaitons with the venue, the show scheduled for this Saturday Oct. 29 has been CANCELLED! So do not show up. You will be wasting your time. We are incredibly sorry sorry sorry sorry sorry sorry. Please do not hate us for letting you down. We still love you and always will.
All appologies,
Ed.
09.29.05
Thanks to the National Awesome Society, Ed in the Refridgerators is playing a killer show at the Norwood Theatre. We're playing right before Jason Anderson and the Best, who are guarunteed to totally rock the roof off of the theatre. You do not want to miss this!
Saturday, October 29, 2005
Norwood Theatre ---- 7:00 PM ---- $7 ---- ALL AGES!
109 Central Street, Norwood MA
with Jason Anderson and The Best , Casey Dienel, and Tony Gong
Seriously, don't miss it.
09.08.05
Joe's back from his wizard impersonating adventure, and Andrew has returned from his geeky drum corps thing. By their powers combined, Ed are back in action! There's a show in the Shed this Saturday!
Saturday, September 10th
Ed's Shed ---- 5:00 PM
11 Myrtle St., Norwood, MA (in the shed in the backyard)
with the Futz and maybe Tony Gong
See you there!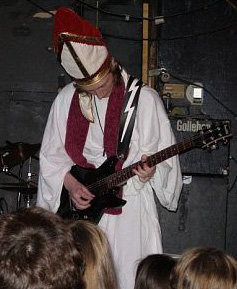 05.16.05
Ed triumphs at CD release party! Pope plays guitar solo!
...Get Excommunicated is now available! Also, the awesome poster from the awesome CD release party can also be ordered!
Songs from Get Excommunicated can now be heard!
The people can't get enough Pope Rock! Ed gets menitoned in the Boston Globe and again the Boston Phoenix.
E-mail the new Pope to recommend that he add Ed in the Refridgerators to his advisory committee. Ratzy!
04.21.05
Ed not elected Pope! Narrowly defeated by Ratzinger. Read about it in the Boston Phoenix.
the Für Pope single was released successfully at yesterday's Pope party and is now available for purchase!
04.17.05
Get ready for the new Ed album. Follow these Tips to Get Excommunicated!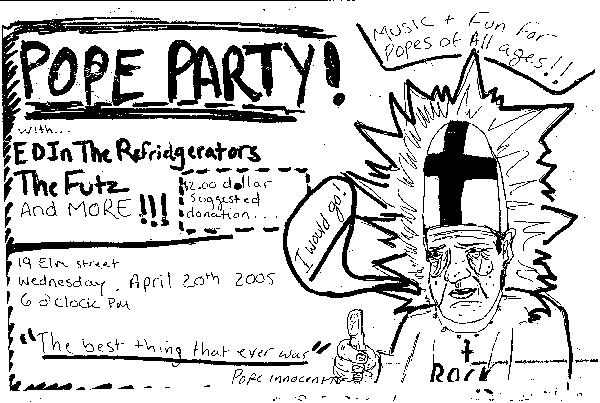 04.15.05
Ed in the Refridgerators invite you to a Pope Party!
Ed in the Refridgerators are proven to be Ed-ucational!
04.11.05
Read the press release for Ed's candidacy: Page 1, Page 2
A *new* Pope Song is released! Listen now to Song for the Pope.
04.03.05
Ed announces candidacy for Pope! Please vote!
Ed releases "the Pope Song"! Please listen!
Ed announces "Get Excommunicated!" tracklisting! Please look!
Ed announces party! Please go!
03.18.05
Yay! Update! Coming soon...
Ed in the Refridgerators Get Excommunicated!
Also, celebrate 6 years of misspelling refridgerators along with the release of the new ED CD!
May 14th, Saturday
Cambridge, MA
Middle East Upstairs
1:00pm, $8 or 9, ALL AGES!
with Harry and the Potters, Ponies in the Surf and Uncle Monsterface
472 Mass Ave., Cambridge, MA
10.05.03
New website is posted. Ed show next weekend! New recordings are being made. There is a new CD that you might or might not be able to get your grubby hands on. Joe made CDr copies. It has a lot of old (12-year old type) stuff, some stuff recorded on the radio, some new demos/practice sessions. Umm...if you are desperate, ask. Oh yeah, Harry and the Potters rock! L8r.
Also, Book ED! We need shows!